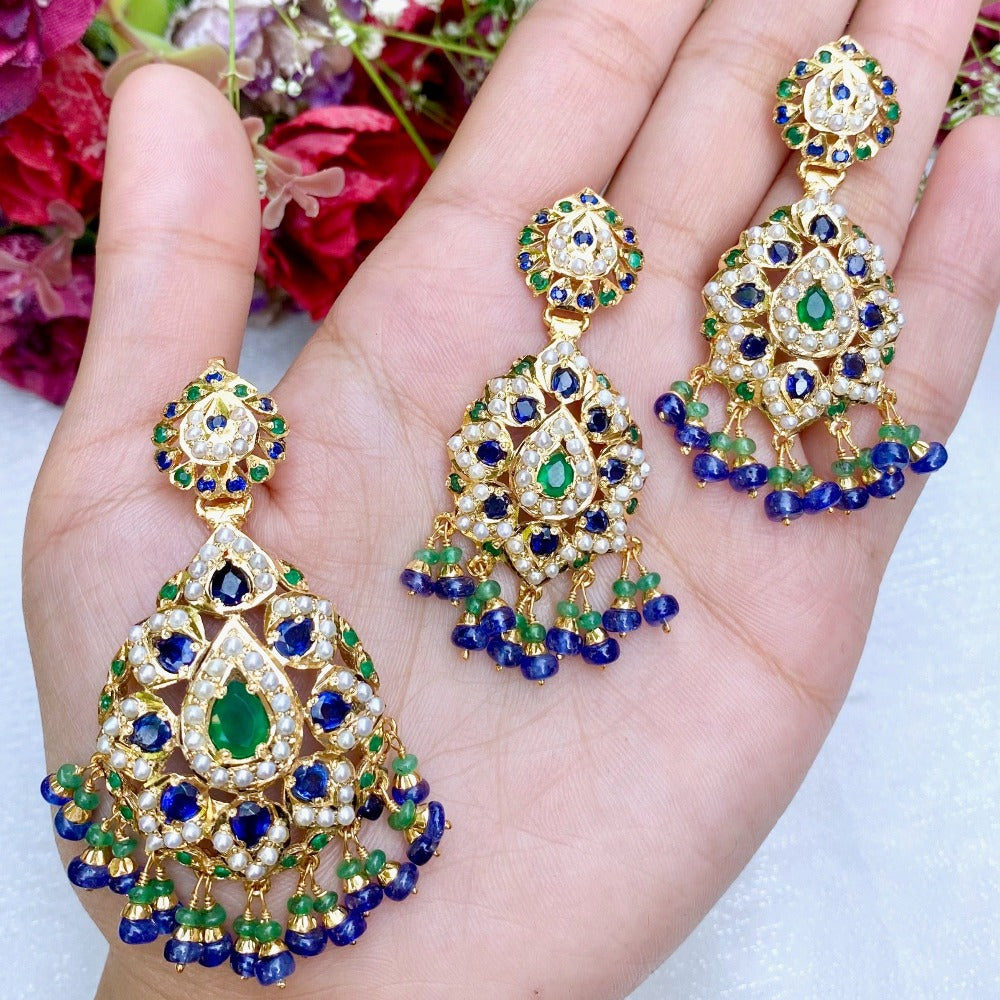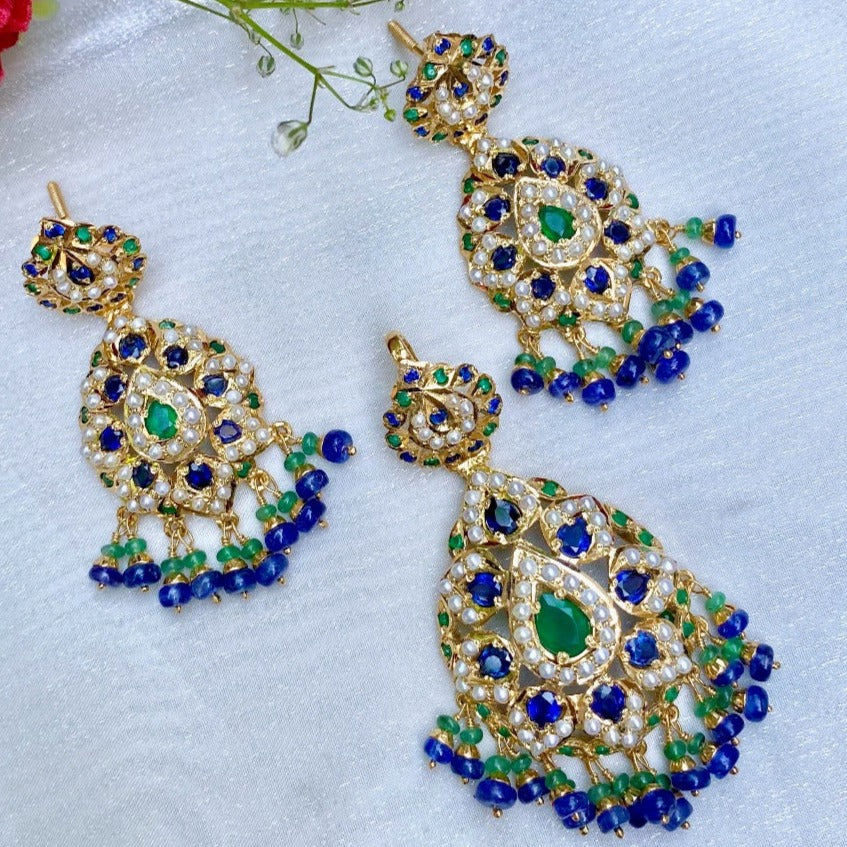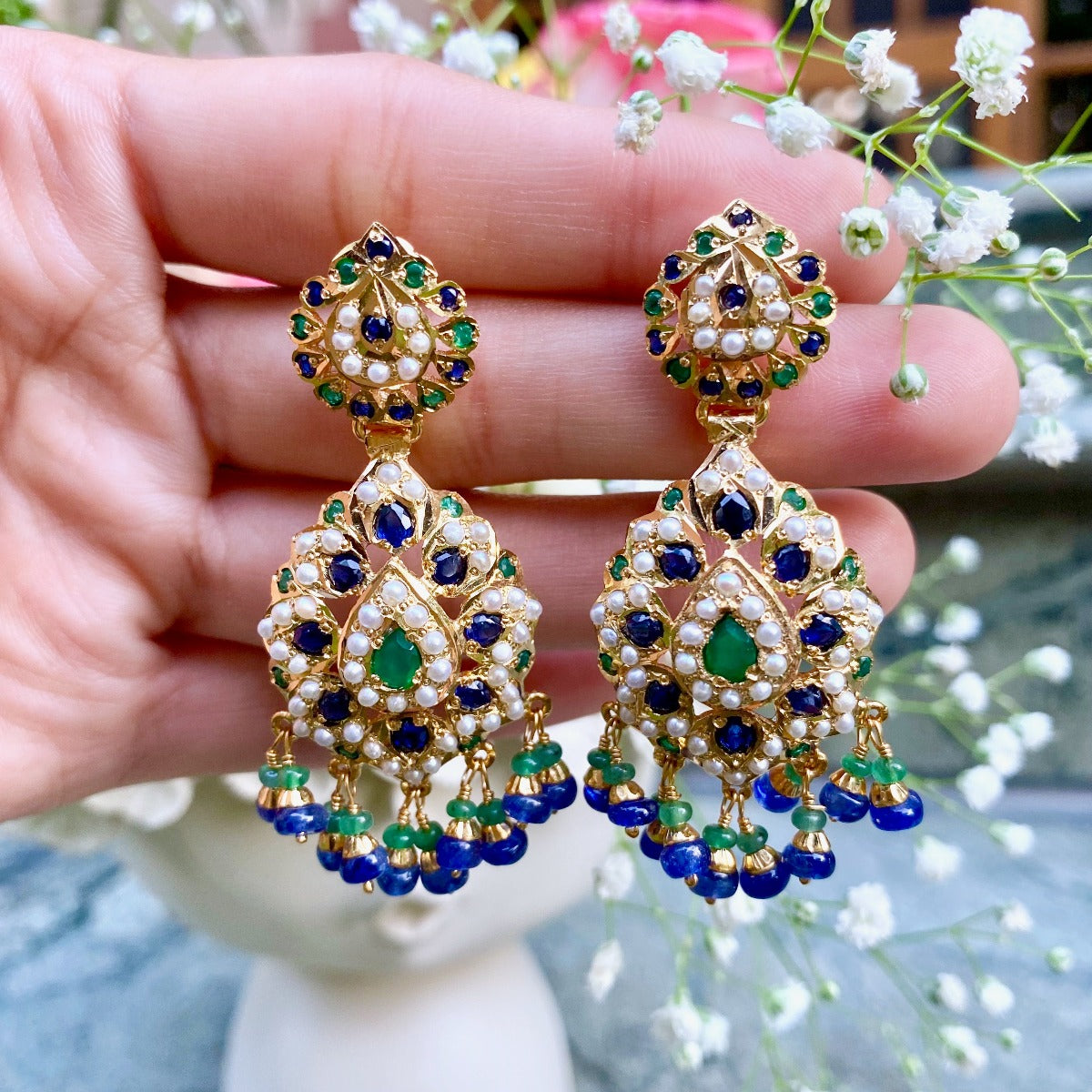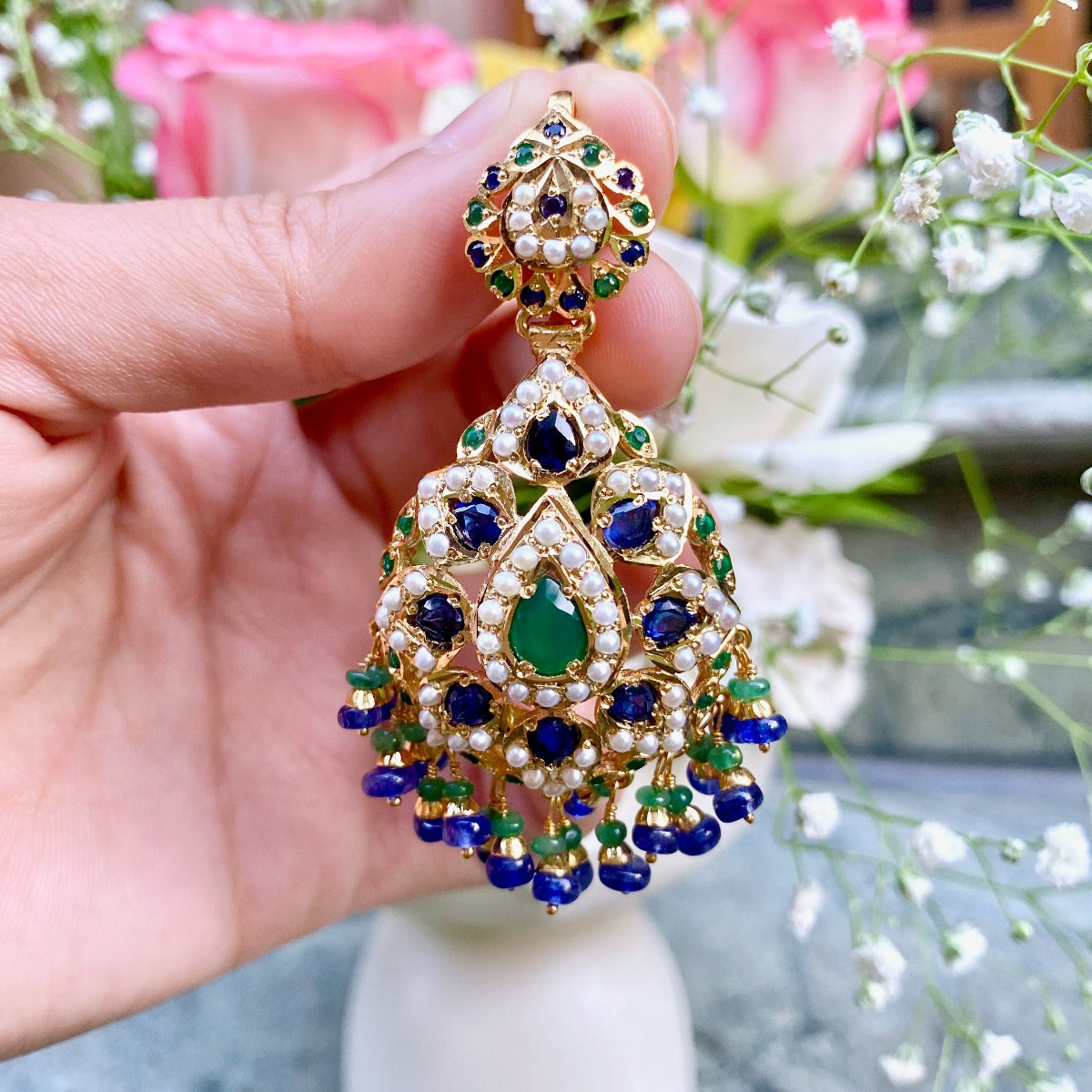 Featuring a mughal era design pendant set made in sterling silver with 22K gold plating. It has been set with freshwater pearls and green-blue stones that resemble emeralds and blue sapphires. The hanging beads are real emeralds and real blue sapphires of excellent color and clarity This special collection has all the charm and luxury of Mughal-era jewelry, with modern materials and craftsmanship that stand the test of time. Carefully crafted with attention to detail with mughal jadau craft, it's the perfect piece to add captivating elegance to any look.
Weight 31 GMs
Pendant Dimensions : 2.75 x 1.5 inches
Earrings Dimensions : 2 x 1 inches
Product Care Instructions

Store each piece separately in ziplocks. Ideally first wrap each piece with cotton before putting inside the ziplocks so that there is minimal clanking. Do not keep gold plated jewelry on any surface until it is inside a sealed ziplock

To remove dirt/sweat/perfume etc rinse with soap water and then clean running water. Blow dry (thoroughly for 5-10 mins) on a towel until hot and totally dry everywhere.

How To Prevent Blackening/Tarnishing of Gold Plated Silver Jewelry

The most common causes of blackening or tarnishing of gold plated jewelry are exposure to human sweat or certain chemical fumes like in perfumes and adhesive fumes like in velvetted jewelry boxes, atmospheric pollution etc. Thorough washing with soap water will ensure that these chemicals are washed away. Thorough drying will ensure that atmospheric pollution will not be able to use residue moisture on jewelry to react with the metals

Still, if accidently something untowards happens - all is not lost. The choice of materials used in our jewelry allows us to re-polish a product any number of times back to original look. The care instruction are meant to avoid dissapointment. Every piece of gold plated jewelry from us has been made to last forever.
Secured Logistics

All our gold and silver products are sent through insured precious cargo carriers. The responsibility of delivering the product to your address is fully ours.

Likewise, any reverse pickup from your address to ours for returns or repairs, is also our responsibility.
Buyback Value of Silver Jewelry
Lifetime Product Services Guarantee

Product related services like

Re-polish/re-plating of gold plated jewelry if required
Minor repairs like stone fall-out, scratches etc
Alterations like increase/decrease size of a bracelet/rani haar

The services shall be offered free of charge to as much extent as possible. In some cases, a nominal mutually agreeable fee will have to be paid. Our logistics partner will arrange for safe and insured transport both ways.
Choose options